Celltech Battery Sales & Service Ltd, is the leading independent battery supplier in the North West of England, stocking over 6000 premium brand batteries, at our facility in St Helens.
Celltech Battery Sales & Service Ltd is an independent battery company with over 25 years experience in supplying, installing and maintaining battery systems. We are an independent source for many types of battery and charging equipment, and can provide professional, impartial advice, to ensure you get the correct product, for your application.
We pride ourselves on quick response times, to make sure that your systems are up and running, quickly and efficiently. Celltech work closely with top battery manufacturers and hold stock of over 6000 premium brand batteries, to provide you with the best products and service possible.
Products & Services offered by Celltech:
Independent battery advice
UPS battery system sizing
UPS and battery maintenance
VRLA batteries
Gel Batteries
NiMH batteries
Nicad Hi Temp D cells & Sub C batteries
Plante Batteries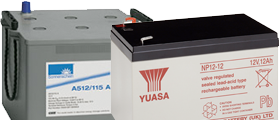 Why batteries should be regularly checked?
A power outage is never a welcome occurrence when running a business. At best it's a short-term annoyance; at worst it can spell disaster for your organisation. If your business isn't prepared, it can result in downtime, a loss of data or even an inability to operate.